Polk County Pick and Pay
Self Service Auto Parts Yard in Lakeland Florida.
Polk County Pick and Pay is a self-serve you pull it auto parts yard.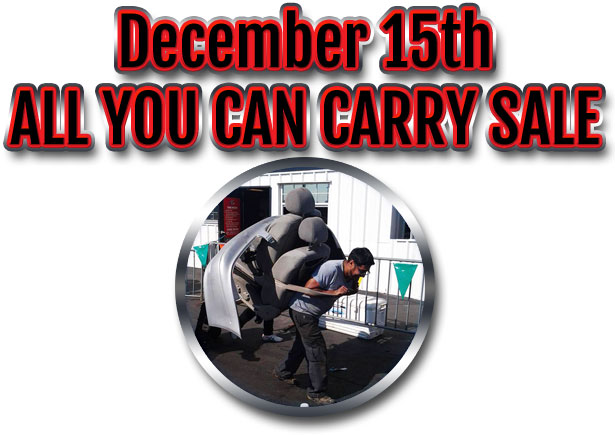 All You Can Carry Rules & Regulations:


Customers will have to carry their purchase 30 feet by hand, with muscle strength only. Items cannot touch the ground.

More than one person is allowed to carry the purchase, but EACH person will be charged for EACH trip $69.95 plus taxes.

Cars, wheel barrows, backpack, dollies, and any assisting device WILL NOT be allowed for the last 30 feet.

$69.95 plus sales tax and environmental fees will be the only charges incurred for customers participating in the Carry All Sale.

You are welcome to do as many trips as you want, but EACH trip you carry a load out you will be charged the $69.95 plus taxes.

If you have any existing injuries or medical issues that would be aggrivated from this event, YOU SHOULD NOT PARTICIPATE.
---
When we're completely open, we'll have hundreds of cars & trucks for you to pull parts from. All vehicles are placed on wheel stands and organized in the yard. We have wheelbarrows, engine hoists and tire pullers for your convenience and we offer free parts interchange information. You can even check our on-line inventory before you get here.
SELL YOUR CAR FOR CASH
We offer top dollar for cars in any condition
We pay CASH for cars and trucks,
even if they are not running.
Turn your end-of-life vehicle into CASH!
SELL YOUR CAR FOR CASH
Convenient Towing Available
Call Now for a Vehicle Quote: 863-859-2776
---
Review Us